Adelaide Road Townhouses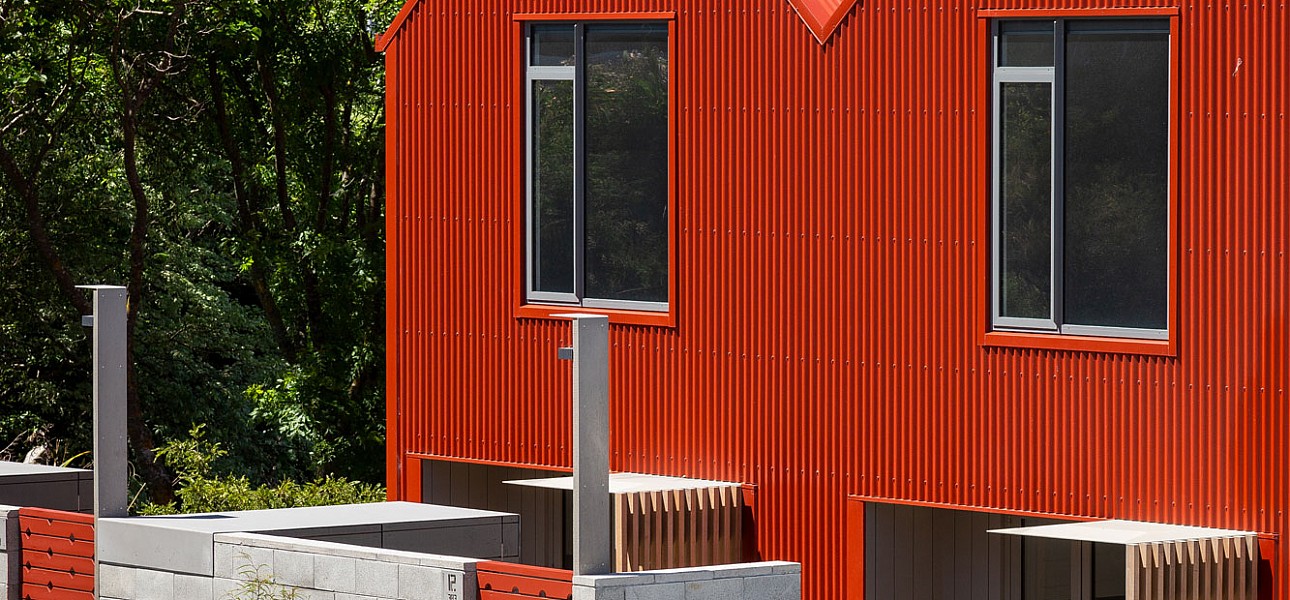 The Wellington Tenths Trust approached us with a one acre sloping site and a brief to provide some quality houses that they would retain ownership of and would rent to iwi and others on the open market.
The typology adopted is the conventional townhouse model as this is both desirable and allowed flexibility to sell individual houses in the future with fee simple ownership.
Five of the 16 are two levels with two bedrooms and the remaining eleven are three levels with three bedrooms. Compliance with the Multi-Unit Design Guide and District Plan resulted in a high level of functionality and liveability. Carparking was required however we have also provided storage lockups for bicycles and other items.
As with all projects with this typology provision of carparking and accessibility has a big influence. This frequently, as is the case here, results in a site coverage which is much lower than allowable. Here it is 24%.
The site dimensions led us to a solution with a cross stair and a footprint that is wider but shorter than longitudinal stairs allow. This allowed three rows of houses all with east and west orientation and morning and afternoon sun. Principle outdoor living space is provided to the west adjacent to the entry and kitchen dining spaces and partially visible to neighbours. This results in an informal living arrangement that it is hoped will assist casual interaction between occupants.
The form of the houses is an unadorned, abstract gable, agglomerated into groups of two three and four. This simple form is subtly disturbed by east gables being lower than the west gables, to allow valley gutters with a 3° slope (1in20) to reduce risk, and to fit within the 8m height limit. Three cladding colours are used to balance unity and individuality. The combination of these three colours gives the development a strong visual presence. The gable form allows each house to be distinct even though its part of a larger group.
Placing the driveway more or less centrally allowed six smaller clusters of houses. This scale negotiates the diversity of the surrounding housing stock -- single stand-alone houses, terrace houses, retirement cottages and a multi-storey apartment building.
As the dwellings are rentals some design decisions were made to simplify facility management.
The site previously had four derelict houses on it and a few large trees which have been retained.