Hutt City Administration Interior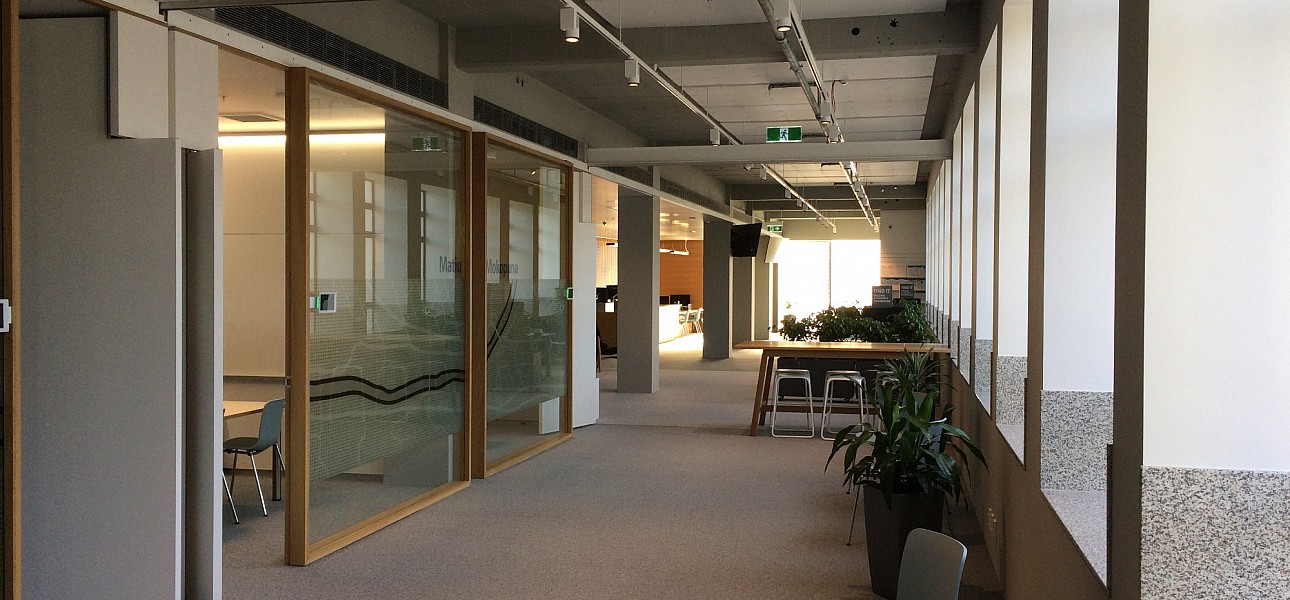 The Hutt City Council Administration Building Refurbishment Project is part of a larger project delivering a revitalised Civic Centre to Lower Hutt. Triggered by the need to seismically upgrade the 1950's buildings, HCC elected to concurrently upgrade and modernise its workplace and customer services facilities.
A new annex constructed to the south of the building provides space for vertical circulation and services, enabling the original building footprint to be dedicated to flexible open plan workspace. A glazed atrium fills the south side of the building with natural light and connects the three floors of the building to each other and the exterior environment.
The workplace planning is straight-forward and efficient, with workstations organised perpendicular to the north face of the building where they benefit from natural light. The breakout areas located adjacent the central atrium enjoy views of the Riddiford Gardens to the south. They are flanked by the main stairs and staff kitchens, facilitating accidental meetings and exchange between staff. Circulation space provides a buffer between the workstation and breakout areas, mitigating the impact of noise. The route is lined with the quiet rooms and storage units, enabling these to be readily accessible by all staff while also providing some visual screening to the workstation areas.
The interior design represents Lower Hutt as an environment, while also respecting the heritage of the original building. The colour palette is light and fresh, with touches of ice blue and forest green that reflect the Hutt River and surrounding hills. Elements of natural timber provide warmth and softness. The result is a high level of quality, without being ostentatious, which instils pride in both occupants and rate payers, and will endure as the building moves into its second life.
The original space planning of the building has been respected, maintaining the separate administrative and civic entries, and retaining the Council Chamber in prime position on the top floor. Key heritage features have been retained, such as the timber doors and steel windows. The remaining portion of existing interior structure on the ground floor has been intentionally left exposed within the customer services centre, allowing visitors to appreciate the construction of the original building. An impression of the original west elevation has been digitally printed on the new glazed facade where the later addition west wing was demolished