Hutt City Town Hall and Events Centre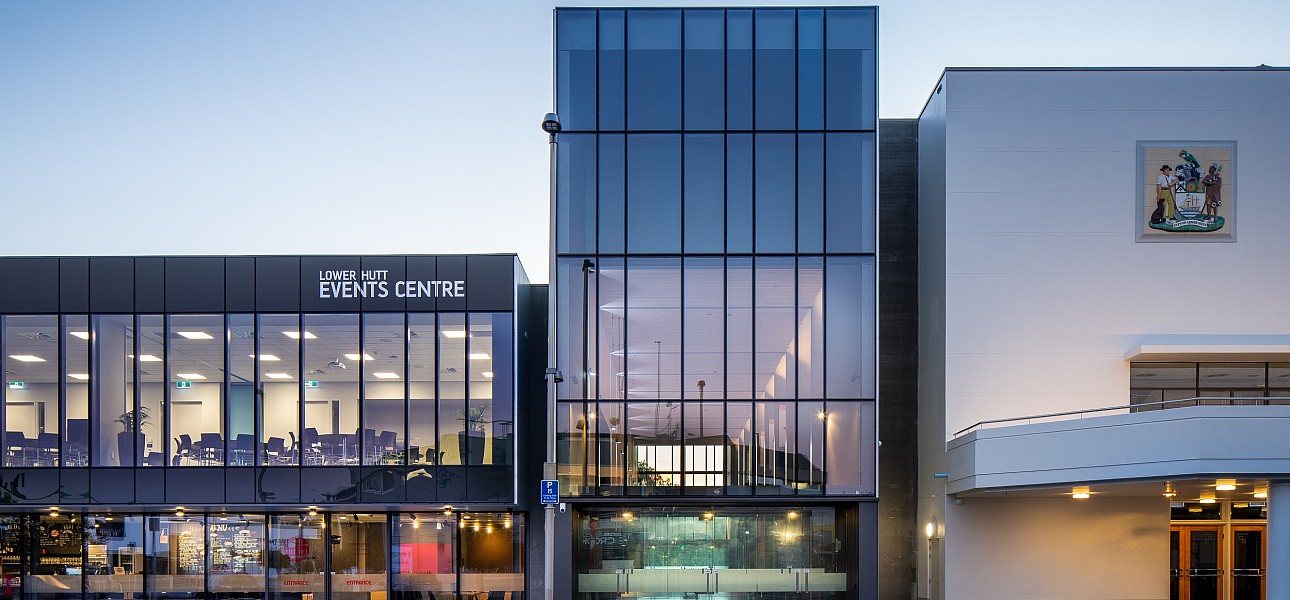 The completed Hutt City Events Centre is the final element in the redevelopment of a revitalised Civic Centre for Lower Hutt. The project follows the recent completion of the Dowse Square, the redevelopment of the council administration building and the surrounding Riddiford Gardens.
A thorough event sector investigation clearly identified the need for a new flexible multi use space which would operate alongside the seismically strengthened Town Hall. With the addition of a new public link between Dowse Square and Riddiford Gardens, the retention of the Town Hall allowed the new Events Centre to offer a large volume performance space complete with gallery seating and a proscenium stage, as well as the new contemporary multi use event space designed for plenary, exhibition and dining events with associated break out/function rooms and a public cafe, all accessed off a major internal public space and link.
The project has demonstrated how contemporary architectural design of the new event spaces, heritage conservation and structural strengthening of the modernist Town Hall with its iconic clock tower can be fully integrated to produce a building fit for purpose incorporating the latest event venue innovations and functionality. The building form is driven from the relationship of the north-south orientated Town Hall with similarly orientated atrium/link, new event centre and back of house
The new events centre can accommodate up to 1300 seated and unlike many such venues is visually connected to the outside with full width glazing to the south overlooking the newly landscaped gardens. The space is serviced directly from an onsite commercial kitchen that can serve 600 guests. The versatility of the space is further enhanced with the inclusion of an operable wall able to divide the space into two equally sized rooms for smaller scale events