Street Corner Canopies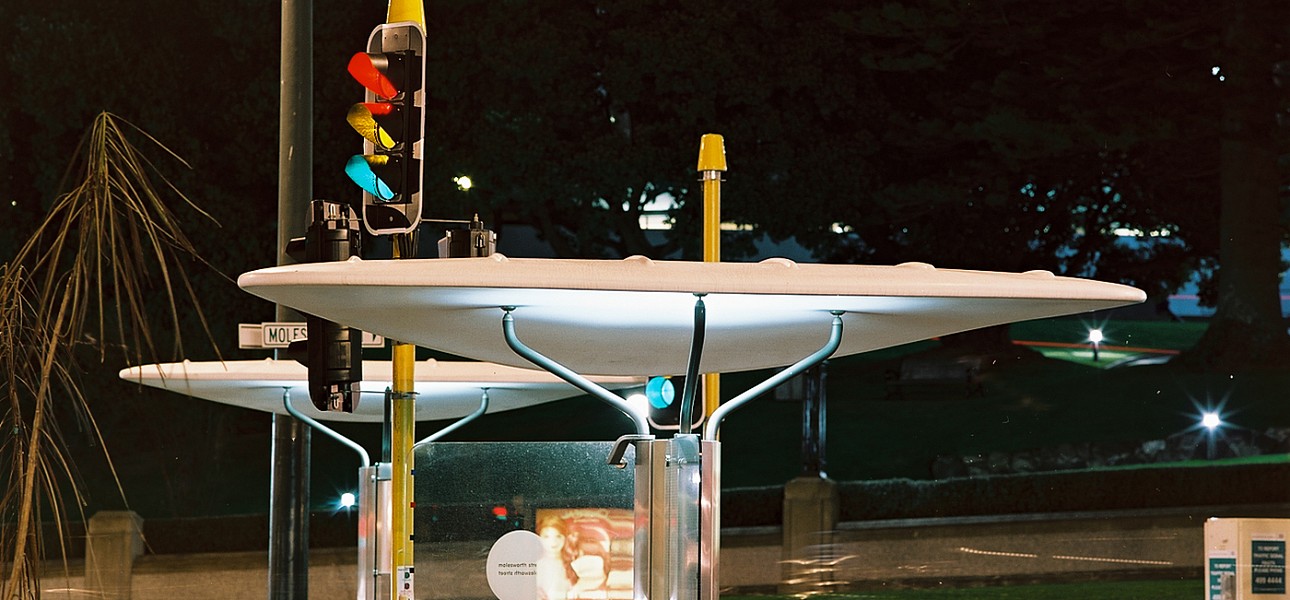 wellington 2000-2003
We were commissioned by Wellington City Council to design pedestrian shelters as part of a larger initiative to encourage use of commuter transportation by improving the pedestrian experience. Work on the bus terminus and Railway Station forecourt were concurrent projects.

The objective of the canopies is to provide shelter from the rain, and wind driven rain, at street corners without building verandahs, and to encourage pedestrians to wait for pedestrian crossing lights to change, rather than either getting wet or risking injury crossing against the lights.

The canopies are designed to be proud of their presence rather than reticent and background. They are intended to be friendly and joyous and to acknowledge and celebrate Wellington's climate.

The ''free' plan shape (lozenge, Frisbee, guitar pick, shrimp chip, Smurf's hat…) allows the canopies to sit comfortably with any corner or kerb geometry – whether it's right angle, oblique or acute.

The initial design was for a canopy with three columns and this was supplemented with a smaller single column version to fit smaller sites and/or sites with lower pedestrian numbers,

The canopies have been designed as a 'product' rather than a 'building' – street furniture rather than individual, site-specific architectural objects. Consequently the canopies are generic but adaptable to suit the specifics of each location. The windscreens are capable of being positioned to address the wind direction and pedestrian flow paths. Uplights provide a brightly-lit refuge at night to ensure pedestrians feel safe. The solid fibreglass canopy provides a reflector for the up-lights at night and provides shade during the day.