Labone Cabin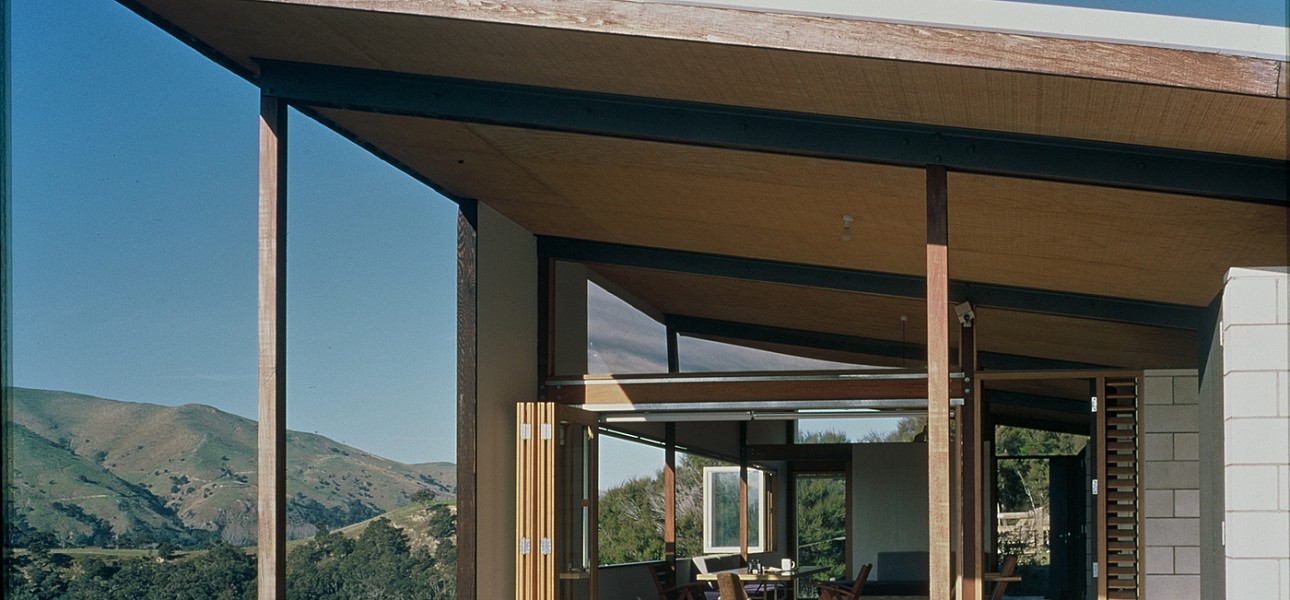 wairarapa 1997-1998
The cabin is for a family from wellington – two adults, two children – for use on weekends and holidays. The property is bounded by a river to the north-east. The site is elevated about thirty metres above the river on a north-facing sloping ridge. A large stand of native bush between the cabin and the river has been augmented by new planting. The setting is rural, and the design responds to the river, grassland and bush.
The cabin has close views of the bush and river to the east, and distant views of the farmland in the wide valley beyond. There is a panoramic view of the Tararua ranges to the north. The nine-metre-long window frames the wide landscape.
The plan is layered both longitudinally and laterally. Longitudinally the development moves from open/public on the north-west to enclosed/private on the south-east. Laterally there are five layers: land, services, circulation, living, view.
The linear plan is divided into five spaces that are linked in various permutations. The most private space, the parents' room, is to the south-east. The middle interior space is a living room by day/evening, and at night a children's or guest bedroom; this is an efficient provision of space when only the parents occupy the cabin. The interior space forms part of a larger integrated day living space that includes dining and kitchen and opens up to the covered and open decks and terraced land to the north-west. Sliding doors internally and sliding/folding doors to the outside open or close off the living spaces from adjacent spaces. The ends of the cabin connect with the land.
The client stipulated that the building 'must first and foremost acknowledge the landscape it is placed in', and 'must impress with its simplicity and compatibility with the landscape more than . . . its audacity of style'. The lateral plan organisation acknowledges the topography and establishes a served/servant spatial division. Sverre Fehn's Mauritzberg prototype summer house and Glenn Murcutt's Magney house are models.
The building form quietly merges with the landscape. The back of the cabin is masonry (concrete floor and concrete block wall with lateral bracing fins), and is half-in, half-out of the ground. Kitchen, storage, bathroom and fireplace are lined up along the rear wall. By contrast, the front (river) side is timber (totara floorboards/decking and creosoted rough-sawn shiplap weatherboards) and elevated above the sloping bank.
The cabin is both tree house and cave. The river elevation hovers above the land on stilts, while the rear side merges into the land. The building suggests a rural shed (shed roof, weatherboard wall, simple window), as well as traditional Norwegian cabins and Vernon Brown's New Zealand manifestations of them. It is also reminiscent of Le Corbusier's early Petite Maison and Villa Savoye.