Ponatahi house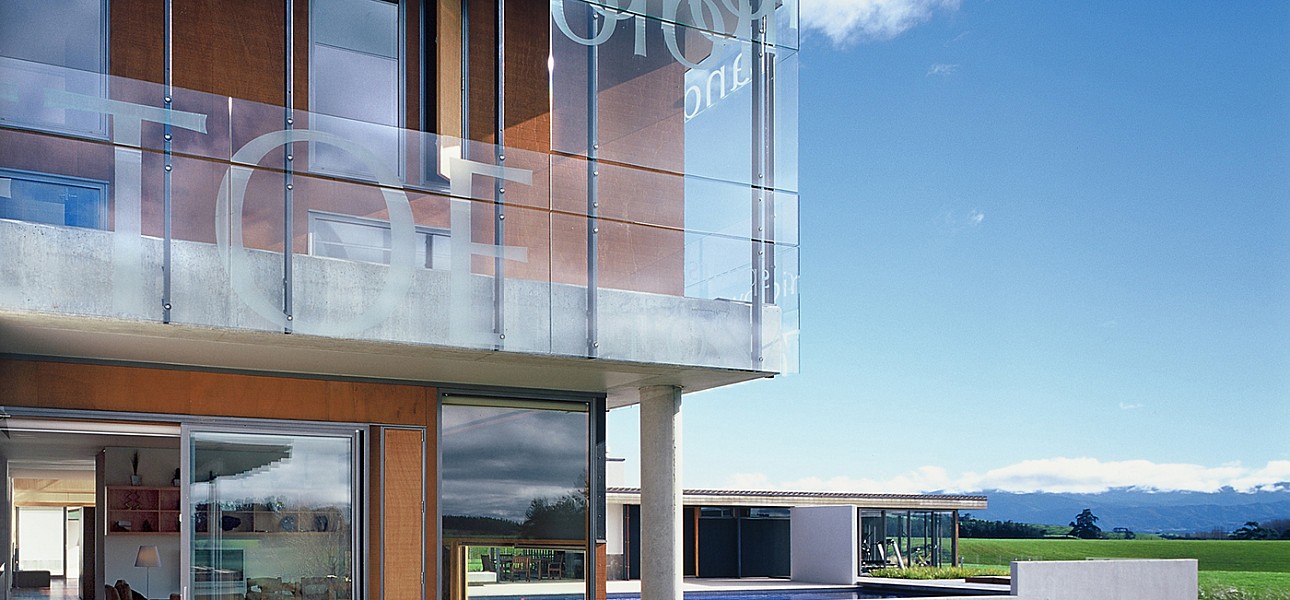 wairarapa 2001-2003
The Ponatahi house is a substantial house located on a 20-acre block of land in the Wairarapa. It includes a small guesthouse, home office, swimming pool and gym.
The main house is centrally positioned and is the dominant element in the composition. The arrangement of the other buildings around the house creates and defines sheltered outdoor spaces, garden areas and courtyards
The house is on a 'green fields' site with gently rolling ground, a serpentine creek, some remnant native trees and arcadian views of surrounding farmland and distant mountains. The house is positioned on an upper plateau, elevated above a flood prone river terrace, and has commanding view. The climate is comfortable and enjoys hot summers. Despite being prone to wet winters it is also prone to drought (there was no rain for four months during summer 2002/3), the occasional frost, and wind due to the open nature of the surrounding farmland.
The house is organised around a gravelled vehicle yard. From this arrival space, access can be made to the house and also directly to the office and guest house which are both physically separated from the house but connected by the walls of the yard. The office has a screened visual connection with the yard but also, like the main house and guest house, faces away – outwards to the garden and land beyond. The rooms of the house and other buildings all have clear and strong relationships between inside and outside, with many different external spaces formed to provide extensions to the living areas.
Leading north from the house is a linear paved space, with a swimming pool to one side and a pool house to the other. These extend the house toward to distant Tararua ranges.
The house itself is aligned in an east-west direction with living spaces at each end and kitchen and dining in the centre.. These two living spaces also connect to, respectively, an elevated timber belvedere to the east, and the main lawn to the west.
The spaces and walls which define them have a freedom by remaining separate from the regular placement of the circular concrete columns, reminiscent of early modernist buildings by Mies van der Rohe (Barcelona pavilion) and le Corbusier (Villa Savoye)
Bedrooms are located on an upper level. The upper level of the house is wrapped with a partially glazed screen. The screen gives form to the house behind which the walls are able to be shaped and have windows placed without concern for compositional issues. Again this approach is reminiscent of projects such as villa Savoye. The screen also acts as an environmental modifier – shielding the walls and windows from wind and selectively providing sunscreening.
Catherine Griffiths was commissioned to provide a sandblasted artwork to the screen. She in turn suggested the use of text and recommended that Jenny Bornholdt be commissioned to write a poem. This work provides another layer of meaning to the house and a personal imprint for the owners.